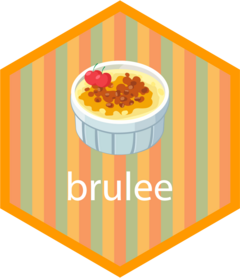 brulee
The R brulee package contains several basic modeling functions that use the torch package infrastructure, such as:
Installation
You can install the released version of brulee from CRAN with:
And the development version from GitHub with:



# install.packages("devtools")




devtools

::

install_github

(

"tidymodels/brulee"

)
Example
brulee has formula, x/y, and recipe user interfaces for each function. For example:
A recipe can also be used if the data require some sort of preprocessing (e.g., indicator variables, transformations, or standardization):
Code of Conduct
Please note that the brulee project is released with a Contributor Code of Conduct. By contributing to this project, you agree to abide by its terms.